Boosting the Mood in Your Parkland Home with Paint Colors
Posted by Michael Citron on Tuesday, July 4, 2023 at 5:46:42 PM
By Michael Citron / July 4, 2023
Comment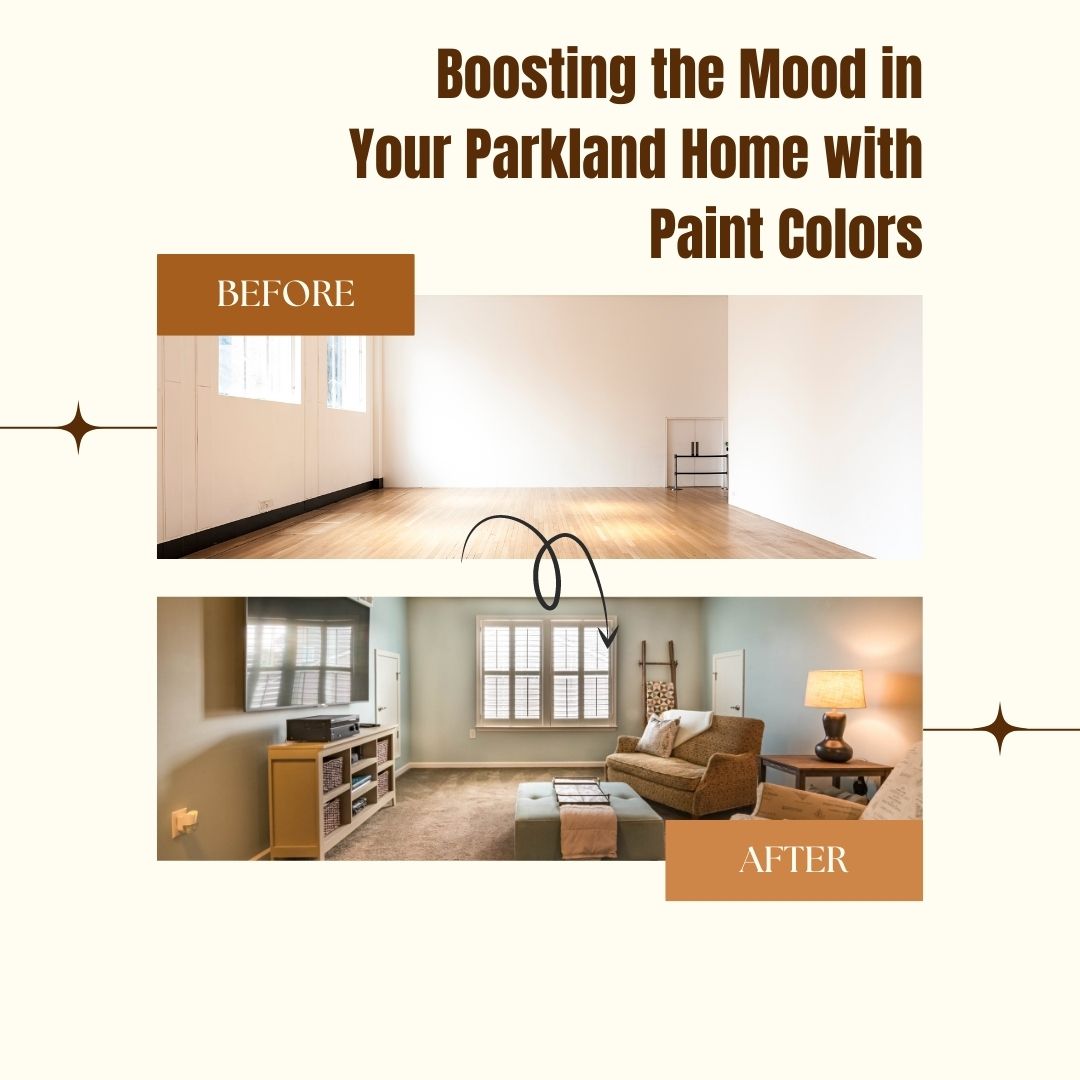 Surprisingly color plays a large role in helping us to feel a certain mood. For this reason, you may have seen the words light therapy or color therapy used. Because studies have found that looking at certain colors can help us to feel a certain way. Because of this colors you use within your Parkland home to decorate can help bring a certain feeling or mood to your space when you are hanging out there.
The science behind mood and Color
The study of color theory is the science of what feelings are brought up when your brain connects with various colors. As an example, many people's brains associate warm colors with feelings of passion, anger, comfort, and power. Think about colors like red, orange, and yellow. Many people would often associate red with anger or passion if you were to ask them.
Studies have found that the majority of people think of cool colors as calming or counteracting feelings of anxiety. Tones like blues and greens and maybe even some purples.
Here are some mood-invoking color suggestions for each room of your Parkland home
The living room
This is the hub of social activity in your home so it is probably best to keep with a neutral color. Warm neutrals help to invoke feelings of nature and tranquility and help people to relax and enjoy their space. Light warm tones of brown are the most popular currently and help people feel a sense of comfort. Greens are also a good choice as they are highly favored for 2023 but they also helped you bring feelings of tranquility and relaxation.
The kitchen
Some interior designers advise that the kitchen is a place where the family tends to gather as well as guests when you are inviting them over for a dinner party. You want everyone to feel at home and comfortable and almost like they are embraced in your home. Colors that invoke these feelings can include soft blues and light greens. If you are hoping for your kitchen to be a place of positive and lively energy choosing yellows is a good route to go as well. A nice soft yellow is a great way for invoking positivity and warm feelings.
Home office
Often when you are utilizing an office space within your home you want to make sure that you are able to stay in the mindset of efficiency and motivation without being distracted from the rest of the goings-on in the house. Some interior designers and color theory experts would advise that focus-enhancing colors include soft greens and earthy browns. These are shown to help aid with concentration and also can reduce eyestrain from staring at electronics. It is also shown that these colors can help to create a calming atmosphere to reduce stress and help with productivity.
Some tones of green are shown to help boost mental functioning and can even help physical well-being. An analysis published by the American psychological association has shown to back this theory up.
An owner's suite
Most people when thinking about the main bedroom suite within their home are looking for a place of refuge and calm after a long busy day or just to retreat from the rest of the activity of a bustling family. Soft blues and gentle grays are a great way to bring relaxing and retreat-like feelings into your bedroom. Blue has been shown to invoke feelings of tranquility and restfulness. Color theory science also shows that blue can help to lower blood pressure and also help with getting a much more peaceful night's rest.
When it comes to painting your home unless you are preparing it to be shown to potential Parkland homebuyers for sale, make sure that you are painting with colors you truly love and that work with your favorite interior design items. While there are great colors that help invoke a mood in a room painting your space is really up to you. But choosing certain colors really can help you to bring a certain mood to a space if it is your main goal and focus for your Parkland home.
For more information on buying or selling a home in Parkland please contact me anytime. I am highly knowledgeable in all Parkland real estate and I'm here to help you make your Parkland real estate adventure as successful as possible.