Parkland Buyers are Gaining More Negotiation Power
Posted by Michael Citron on Thursday, June 22, 2023 at 4:13 PM
By Michael Citron / June 22, 2023
Comment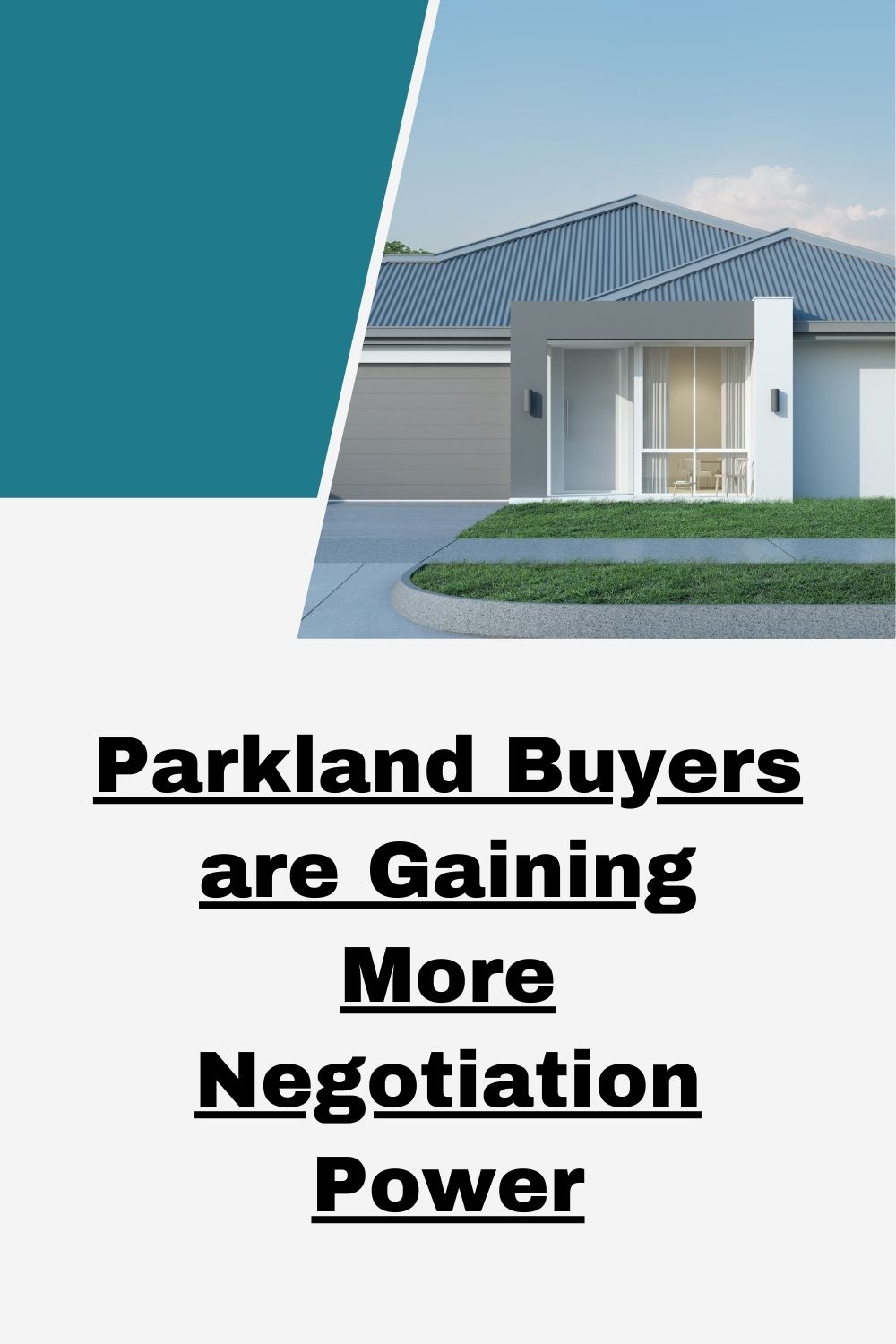 The Parkland real estate market has been interesting, to say the least over the last few years. Some may say it has been a little more challenging on a Parkland buyer's end than anything. But there is good news for Parkland homebuyers about the shifting real estate market, Parkland buyers are gaining back more negotiating power.
When the pandemic began in 2020 the real estate market was almost instantly impacted by rapidly dropping mortgage interest rates which cause homebuyers to come flooding to the market to take advantage of purchasing homes at a much lesser "cost". This was also one of the largest factors behind housing shortages and several buyers competing to purchase the same home. Which then gave home sellers a very big upper hand in selling their homes. All of this made for a market where buyers were desperate to be the winning bidder in a home sale and pulled almost all home sale negotiation power from a buyer.
Now that the rate at which homes are selling has slowed down, some of the purchasing power has returned to the buyer's side. Sales numbers reported by Redfin have shown that buyers received concessions (negotiation requests) from sellers in 45.5% of home sales between December 1 2022 and February 28, 2023. This was reported as a 31.1% increase in acquiesced requests off of sellers responding to home buyer negotiations.
It is becoming more common for Parkland sellers and sellers across the country to be willing to help pick up closing costs and make more repairs to close on a home sale. Parkland buyers should be optimistic and confident that they can come back to the negotiation table and make a solid Parkland home purchase.
Here are the common concessions sellers are willing to make to sell their Parkland home
The return of the inspection contingency
If you read any real estate news over the last few years you may have seen a common theme of homebuyers releasing their right to back out of their offer because of a home inspection. More commonly referred to as the waiving of a home inspection contingency. To try and win out against other competing offers Parkland homebuyers would release their right to the home inspection breaking the sale contract without repercussions to the home buyer.
Many times this meant that buyers would give up having a home inspection altogether. The waiving of the contingency does not mean a Parkland buyer does not have the right to hire an inspector it did mean that they couldn't not ask for any repairs to be made or back out of their offer should a significant repair be needed on the home. This contingency is now coming back to commonality and many Parkland buyers are retaining their right to an inspection contingency. And Parkland home sellers are more than OK and even expecting this to now be included in purchase offers.
Help with closing costs
Traditionally home sales include that the home buyer expects to pay all of the closing costs. In some home sales before the pandemic, it was not absolutely crazy to ask if the seller would be willing to help with a portion of the closing costs. As competition heated up over the last few years asking a seller to cover closing costs seemed crazy. Now this request is becoming more common than it was before all of the crazy real estate market conditions took place.
Sellers are aware that mortgage rates have increased twice as much as they were just over a year ago and because of this sellers are more willing to help homebuyers secure a mortgage by helping with things like closing costs.
Home Warranties
A home warranty can help to provide some financial protection if something goes wrong and needs repair in the home not covered under a home insurance policy. For example, this could cover a dishwasher malfunctioning and flooding the kitchen. The average home warranty can cost anywhere from $360-$900 for a year. But some home sellers are agreeing to include this to help sweeten and seal a home sale. When looking at the big picture of total profit from a home sale offering to purchase a one-year warranty for the new homeowner is a small concession.
It may seem difficult to navigate the current Parkland homebuying market but Parkland home buyers that are truly ready to purchase a home have some hope in better negotiation power right now. When you work with me as your real estate agent I can also help to make the negotiation process as stress-free as possible.
For more information on purchasing a home in Parkland right now contact me anytime. I am here to help you find a Parkland home you will love at a price that you truly can afford.