Retired with a Paid-off Home In Parkland, Should You Stay in Your Home or Sell?
Posted by Michael L. Citron on Tuesday, January 10, 2023 at 4:00:05 PM
By Michael L. Citron / January 10, 2023
Comment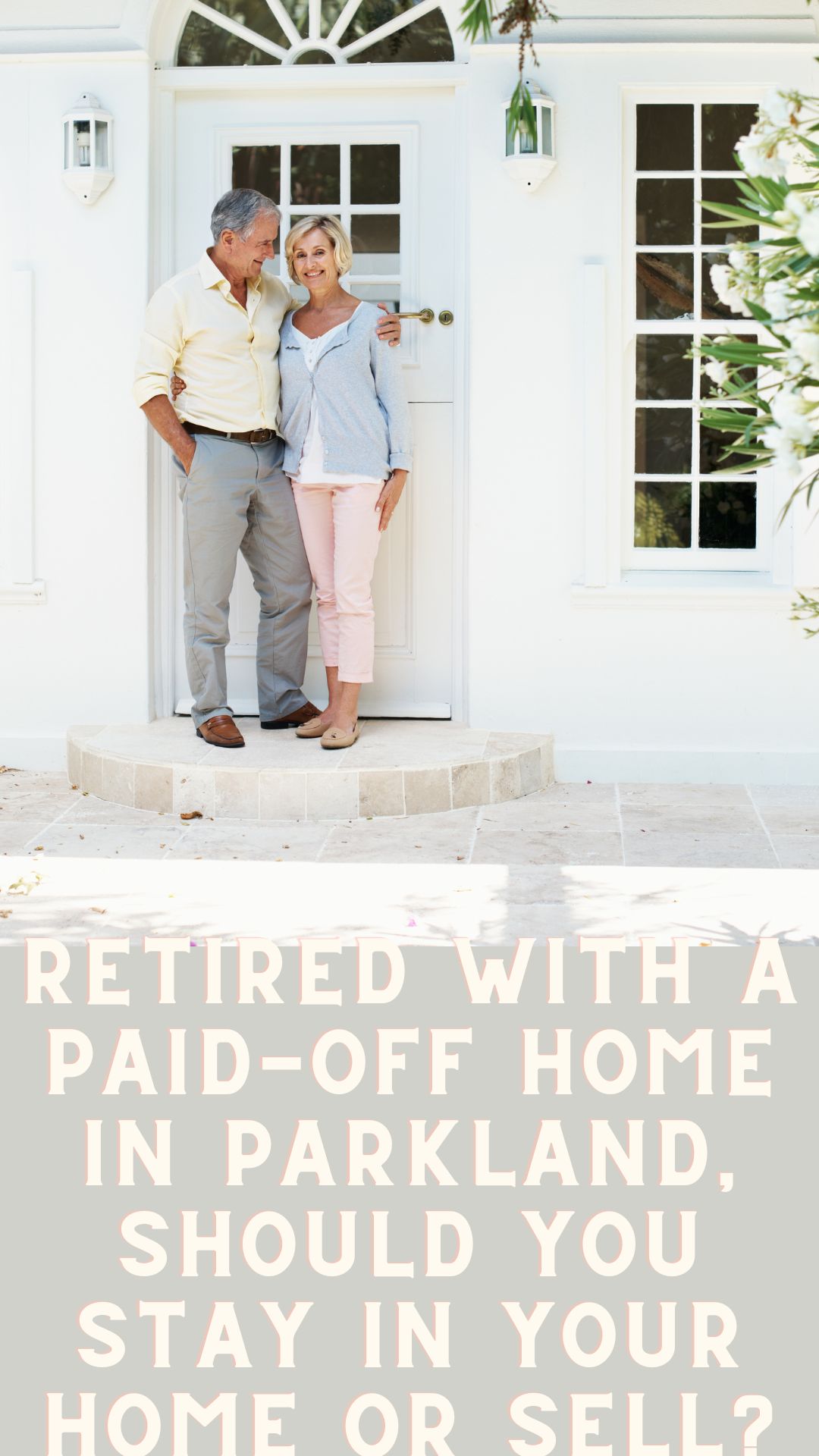 Paying off your Parkland home and owning it fully on your own is a big financial relief as it takes a large expense off your plate from paying a mortgage and allows you a little more financial freedom to use a large sum of your money for other items. If you are retired and living on a fixed income having a home that is paid off can be a big asset.
Some Parkland retired homeowners are wondering if they might better enjoy their golden years in a different living situation even if their current home is paid off giving them more financial security. Part of the question is wondering if they might be smart to sell their home while it is desirable and in high demand.
Here are some factors to consider when selling a Parkland home in retirement
Some reasons you may consider selling your Parkland home
Saving on additional costs of owning the home
For some Parkland retired homeowners there may be added costs that do not dissipate once the home is sold off. This could be items like maintaining the property or high property taxes. For some Parkland homeowners, their current home may be too large to continue to maintain. They may not have the ability to cover the costs of hiring help to keep the home in its best condition.
If you are a retired Parkland homeowner and your property feels like it is just too much then selling even if you own your home may be a better option so that you can get into a property that fits better with its maintenance demands. However, if you are capable of hiring help to maintain your property then it is a good idea to stay in your home.
Benefiting from the equity
Since homes are still in high demand we are still within a seller's market in Parkland and all around the country. Right now, though mortgage interest rates are lower than they were a few months ago, they are still pretty high as compared to the last few years but this has not stopped buyers from looking for homes. Homes are still selling and are still in low supply meaning that sellers are receiving top dollar when they sell.
Data over the last few years has also shown that there are several American homeowners that are equity rich. Meaning that they have twice as much or more money in the equity of their home than they owe to pay it off. If you are planning to downsize in your retirement this could leave you with the ability to pay off your next home and still have a little bit of money to pay for other important expenses. If you have this amount of equity in your home and are considering downsizing where you will still be able to own your home outright this could be a very helpful move.
Finding a property that better suits this time of life
Some retired homeowners may find that aging in place in their current home is not the best option with the way the home is constructed and laid out. Other Parkland retired homeowners may decide that they would like to benefit from moving into a neighborhood that is focused on homeowners in their golden years where they can't get to know their neighbors and continue to socialize and live a happy and active lifestyle with people of the same mindset.
Reasons to stay
The ability to keep the home in the family
As retired persons get closer and closer to leaving their lifestyle behind they may consider staying in their home so that they can pass on property ownership to other members of their family most often their children. Property ownership is one of the most stable ways to retain wealth in America and being able to gift this to your children or other relatives is a high priority on many people's lists.
Avoiding a huge tax hit
In considering a sale of a home it is always smart to think of the Capital Gains tax that you might be hit with on the sale of your home. Capital gains tax starts to take effect on profits exceeding $500,000 for a married couple and $250,000 for a single person. If a spouse passes away the spouse can use the married capital gains exemption but only for two years after.
Sentimental Value
If you have lived in your home for several years you may have grown comfortable and accustomed to it and this is perfectly normal and commendable. Some homeowners may feel an attachment to their home and want to stay comfortable in the home that they have created for themselves and that they love while benefiting from no longer needing to pay it off.
For more information on selling a home in Parkland or for information on available Parkland real estate including great homes in retirement communities please contact us anytime.