Should You Buy a Parkland Home That is For Sale By Owner?
Posted by Michael Citron on Friday, May 19, 2023 at 7:12 PM
By Michael Citron / May 19, 2023
Comment
The real estate market in Parkland has been much less than a cakewalk for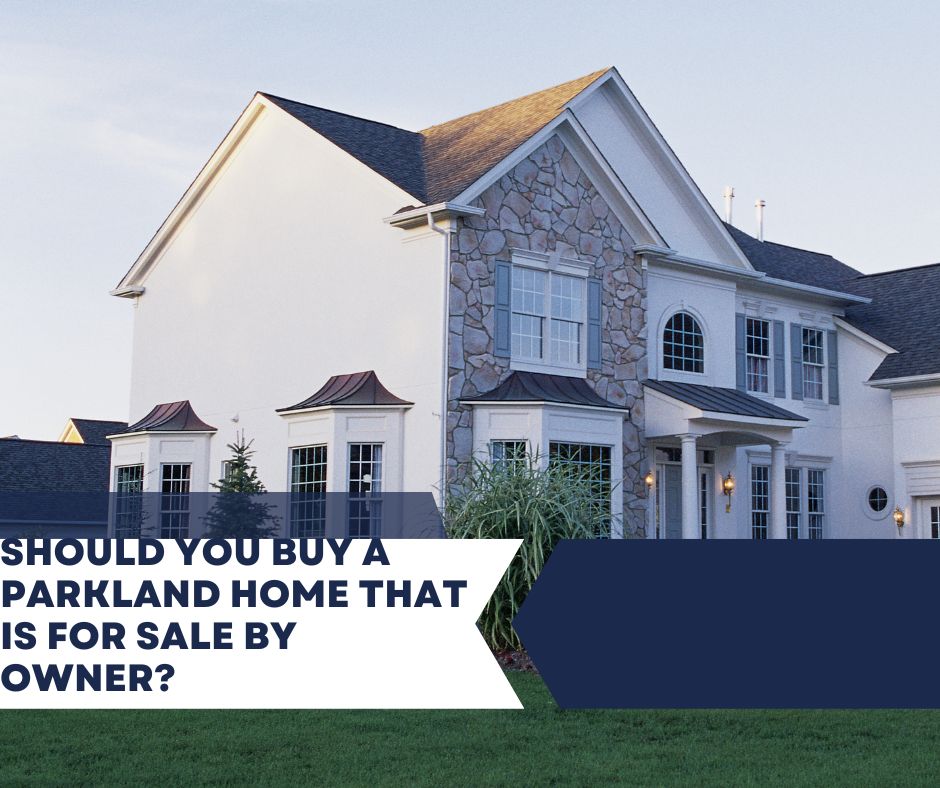 buyers over the past three or so years. Finding the perfect Parkland home has been met with some challenges over the last few years. What if you finally find a home you love in Parkland only to find out it is for sale by owner?
You have been smartly working with a Parkland real estate professional to help you navigate the rough seas of the real estate market to find a home that meets your needs and some of your wants but purchasing a home where the owner is hoping to not use the help of an agent might be a little tricky.
What exactly does for sale by owner mean?
For sale by owner often shortened to FSBO on home listings means that the home is being sold directly through the homeowner without the help of any real estate agents or brokers. Most often a Parkland homeowner will choose to sell their home in this manner to avoid paying real estate agent commission fees and retain as much profit from the home sale as possible.
Even if the homeowner is looking to retain more money from the home sale an FSBO sale does still require a commission to be paid to the buyers' agent if the accepted purchase offer was made through buyers using the help of a buyers agent.
In an FSBO transaction, the homeowner takes on all of the risks and responsibilities of a listing real estate agent. This can include researching fair market value for the home, marketing the sale of the home including listing it on the MLS, staging the home, hosting showings and open houses, negotiating the sales terms and contract, gathering all legal closing documents, having a deed prepared, and taking care of any of the selling party responsibilities in the closing process.
Should I still work with a buyer's agent?
It is always in a Parkland home buyer's best interest to work with a buyer's agent, especially in a seller's market where inventory is low. It is especially important to use a real estate professional when purchasing a home that is for sale by owner because you never know the extent of the homeowner's actual real estate knowledge. Having a buyer's agent on your side will ensure that the home purchase process is done legally and you are indeed paying a fair price for the home.
A buyer's agent will help to guide you through a safe and legal home purchase without any mistakes that could most likely occur when purchasing a home from someone that is not a real estate professional.
What if the home seller does not want to pay the agent commission?
In some cases, Parkland home sellers that are opting to list their home for sale on their own may refuse to pay for buyer agent commission from the proceeds of their sale. Unfortunately, this is within their right to refuse. At this point, you can use the help of your buyer's agent to renegotiate the commission and remind the home seller of how much profit they will still make from their home sale.
If the homeowner still refuses to pay a buyer agent commission then it will be your responsibility to pay the commission for your agent. In some cases, buyers agents that are dedicated to the happiness of their client may lower their commission or completely waive it as a last resort to help their client get into a Parkland home they love.
If you are looking for a home for sale in Parkland please contact us anytime. We are highly knowledgeable in Parkland real estate and make it our mission to find you the best possible Parkland home that meets your needs.