Spring Cleaning Mishaps That Could Make the Job More Difficult
Posted by Michael Citron on Thursday, March 30, 2023 at 8:21 PM
By Michael Citron / March 30, 2023
Comment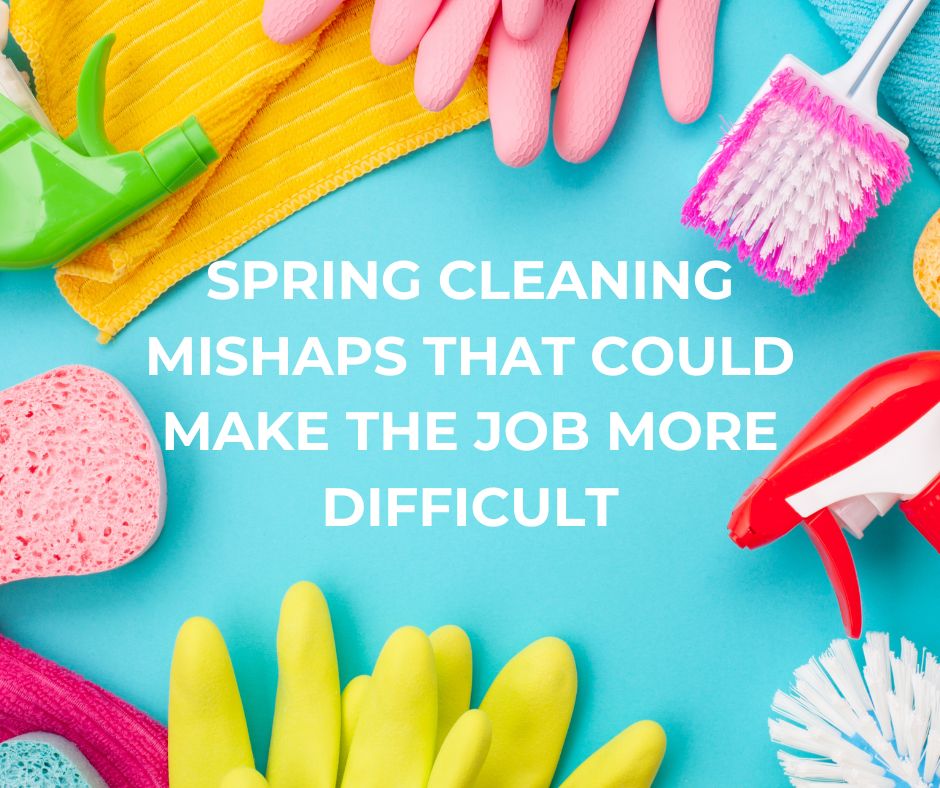 It is finally officially spring and though it is warm and pleasant in Parkland year-round those who live here get excited about the warmer days of spring. With the excitement of longer daylight hours and better temperatures comes an excitement to spruce up the house and enjoy a new season.
Many Parkland homeowners and homeowners all across America tend to get things done around their homes as the daylight hours increase. There's something about excitement for more sunshine that gets homeowners motivated to get things done. Especially when it comes to yard work.
But before you get excited about refreshing your home this spring it is good to make sure you are tackling your much anticipated refreshing projects with the knowledge that you are doing them correctly. It is not uncommon for a homeowner to jump into a project and unknowingly do it improperly causing more work in the long run.
Here are some common spring cleaning mishaps to avoid
Organizing storage areas
Getting stuff in your storage piles neatly placed into organized areas of storage in your home is a great idea and feels like a big accomplishment. A common mistake many homeowners make is not properly storing their items. Many things are better kept inside plastic tote containers rather than cardboard boxes, for example.
Cardboard boxes will still let in things like moisture and can still easily be accessed by pests and other unwanted house guests like rodents. You want to make sure that what you are storing your items in can hold up to the conditions of the area you are storing them, especially if you are storing them in an outdoor shed.
You also want to make sure you are not improperly placing items in outdoor storage spaces that could get damaged through extreme temperatures. This could be things like chemicals and paint. Some items are best stored in a cool dry place inside a home that has better temperature control.
Cleaning the windows
There is nothing more satisfying than looking out a freshly cleaned gleaming window and enjoying the long hours of sunshine pouring in. But it can be frustrating to do all the work of scrubbing the windows only to see streaks. You can avoid streaks on the windows by using a lint-free microfiber cloth to clean and some simple vinegar and water.
DIY carpet cleaning
You certainly can rent a machine to clean your carpets on your own. Ideally, carpets should be deep cleaned at least once a year depending upon their amount of usage. There are several things to be careful of when cleaning carpets on your own, however. The biggest mishap for homeowners with do-it-yourself carpet cleaning is using too much cleaner and too much water. You also want to make sure you are allowing for plenty of drying time.
Using the self-cleaning option on the oven too much
The oven can get all kinds of baked-on gunk, especially after heavier use during the holidays. Most appliances now come with a self-cleaning option that promises to make cleaning your oven easier. But when used too much it can cause heating elements to burn out in the oven it could also cause exposure to toxic fumes. Some people opt to avoid the self-cleaning function on their oven and just use a cleaning solution.
Not maintaining HVAC
A truly clean home is really only as clean as the air within it. It is always best to make sure you are changing out your HVAC filters at least every six weeks. In addition to this, you should have a professional come and look over your system twice a year. Once when the weather is warmer and you plan to switch over to using the air conditioning and once when it is cooler and you plan to use heat. This ensures that the most expensive energy consumer in the home is working as efficiently as possible.
Giving your hardwoods a shine
Hardwood floors should be given some care and attention periodically during their lifetime. They can last longer than you own the home but only when they are cared for properly. Before you go to restore the shine to your hardwoods you want to make sure you are using the proper shining agent. Don't just assume that wax is the solution. Make sure that you know what type of finish is on your floor before sprucing it up. You don't want to have the painstaking work of undoing everything and redoing it with the right product.
Accomplishing spring cleaning projects around the home can be incredibly satisfying for Parkland homeowners. Having a home that is well taken care of is mood-lifting and helps to keep the value of your home up should you decide to sell it. With the right maintenance and knowledge spring cleaning can be a great thing to keep your home in shape.
For more information on purchasing or selling a home in Parkland please contact us anytime.